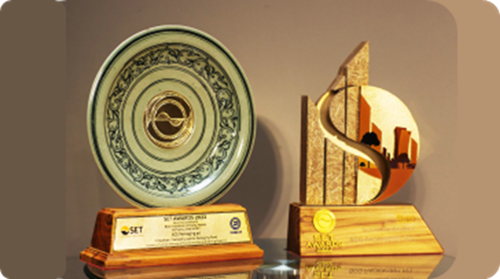 SCG Packaging Public Company Limited received "Business Excellence Awards" under the category of Best Innovative Company Awards in innovative Nanocellulose fiber for the packaging paper industry from SET Awards 2022 hosted by the Stock Exchange of Thailand.
Thai Containers Group Co., Ltd. received the BETAGRO Supplier Excellence Awards 2022 to honor partners with its excellent performance in product quality, pricing, transportation, service, and innovation as well as commitment of steady and sustainable growth of the Company alongside Betagro Public Company Limited.
Duy Tan Plastics Manufacturing Corporation Joint Stock Company received the "Top 10 Vietnamese Strong Brands Awards 2022" under the category of Manufacturing and Processing Industry, hosted by VnEconomy and Vietnam Economic Times Magazine.
HOLIS by SCGP IM-MU CAP was received the "Best Brand of the Year Award" in Cheewajit Awards 2022 under the category of Innovation Reader's Vote, organized by Cheewajit Magazine. The award was given to leading, innovative, and environmentally-friendly products in Thailand and abroad with advanced production technology that meet the needs of health-conscious consumers.
ALMIND by SCGP received the "Rising Star Award from Amarin Baby & Kids Awards 2022" under the category of Best Disinfectant Cleaner for Families. The award was given to the outstanding brand selected by the editorial team of the Amarin Baby and Kids Fair 2022, recognizing product quality, attractiveness, practicality and suitable for babies.